Best restaurants in Liverpool for small plates
By Paul, a foodie in Liverpool and founder of Treasure Hunt Liverpool. Updated February 2021.
In the eight years I've been in Liverpool, the food scene has exploded. You can find great food at a reasonable price and there are loads of interesting independents. With cuisines from all over the world, you can find tapas, tagines, street food from Delhi and Mexico city, and of course good old British cuisine too.
Small plates are ideal for combining with a day out playing Treasure Hunt Liverpool since it's flexible and you can eat as much or as little as you like. Plus you can try more delicious food, especially if you're sharing! All our restaurant recommendations are close to the treasure hunt route and you can take your time, the game's flexible.
Best areas for food in Liverpool
There are three main areas to find great food in the city centre so if you fancy something to eat along the way, look out for these spots.
If you just want to wander and pick somewhere, Bold Street has some of the best restaurants in Liverpool. It's in the old Ropewalks area of town, running between Hanover Street and the Bombed Out Church. Since the pandemic, it's been pedestrianised so it's safer and cleaner, and there are many places to eat outside. The treasure hunt starts and ends on Bold Street.

Castle Street is another good area, over in the business district by the Town Hall. We're starting to see more restaurants open here and it looks like another foodie and drink cluster is emerging. There are also a couple of cute tiny wine bars and a gin distillery and bar, so great for a refreshing pit-stop (the treasure hunt goes past the Town Hall so look out for Castle Street.) Half of the street has been pedestrianised too so it's a nice place to eat or drink outside when the weather's nice.

The Royal Albert Dock has massively improved for food in the last few years. When it was first regenerated in the 80s, the restaurants that moved in were… OK… mostly chain restaurants, good at the time but nothing exciting. As Liverpool's independent food scene has exploded, the Albert Dock began to look a bit naff with tacky gift shops and boring restaurants. In the last few years, as leases have expired they've been taken over by more exciting, local restaurants and shops. Now it's a smart, picturesque waterside spot with some of the best places to eat in Liverpool.
Finally, a special mention goes to Duke Street Market and Baltic Market over in the Baltic Triangle. The concept is like a European food hall: small food stalls serving small plates, and shared tables. You order your food and take a beeper and find a table. When it's ready, the beeper goes off and you collect your food. It's more casual and boozy than a restaurant, there's loads of variety and the food stalls tend to do a few things extremely well.
Alright, let's talk favourites. In no particular order, here are the best small plates in Liverpool.
---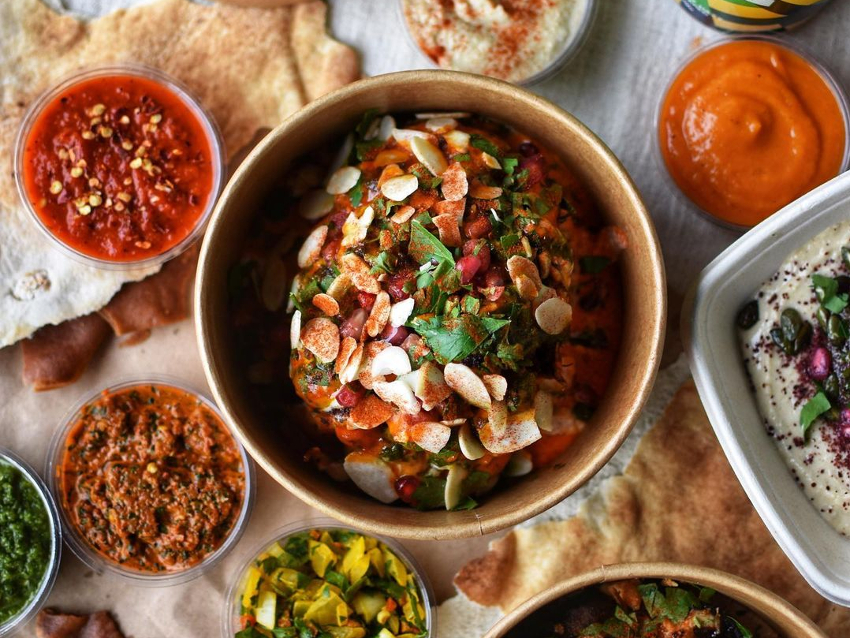 Maray
Maray in The Albert Dock is one of my absolute favourite restaurants, serving sharing plates inspired by the flavours of the Middle East. Their menu is a manageable size and literally everything I've eaten there was interesting and delicious. The food is spicy but I've been with in-laws who don't like spice and the staff could advise and adapt things (the in-laws loved it too).
The unmissable dish is the Disco Cauliflower, roasted and drizzled in a mystery orange sauce with harissa, pomegranates and almonds. It's hard to describe but it's consistently wonderful. My other favourites are the Buttermilk Fried Chicken and Sweet Potato and its delicious date molasses sauce.
Maray are fantastic for gluten free (if that's your thing, see our guide to best restaurants in Liverpool for gluten free). If you have dietary requirements, they provide menu on an ipad where you can select your requirement and it filters the menu. Really slick.
---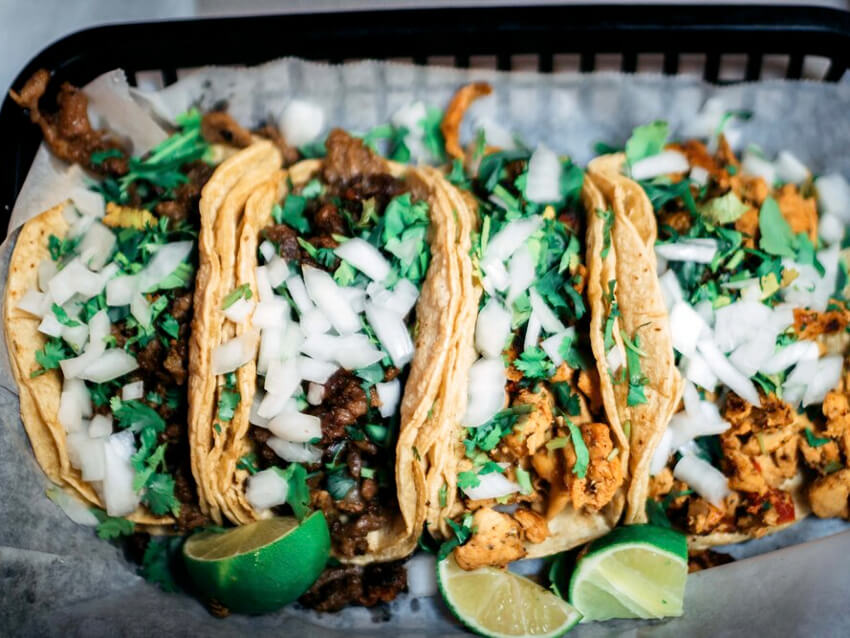 Madre
Madre (as in "mother") brings the taste of Mexico City street food to the Albert Dock, and the flavours are mind-blowing. It's not like a "normal" Mexican - it's street food, meaning small plates with powerful flavours.
The menu's always changing but my favourite section is the tacos. I often go for a pork, a chicken and sweet potato tacos, and each brings a totally different taste sensation, with plenty of spice and flavour. I'm hoping for a return of the Queso Fundido - basically a huge bowl of delicious melted cheese - but until then I'm confident their other options will be just as delicious.
There's a good area for eating outside - it has table umbrellas so great for shade but not so much for heavy rain. The staff are super friendly and helpful. If Mezcal is your thing be sure to mention it and I'm sure your night will pass quicker than you expected…
---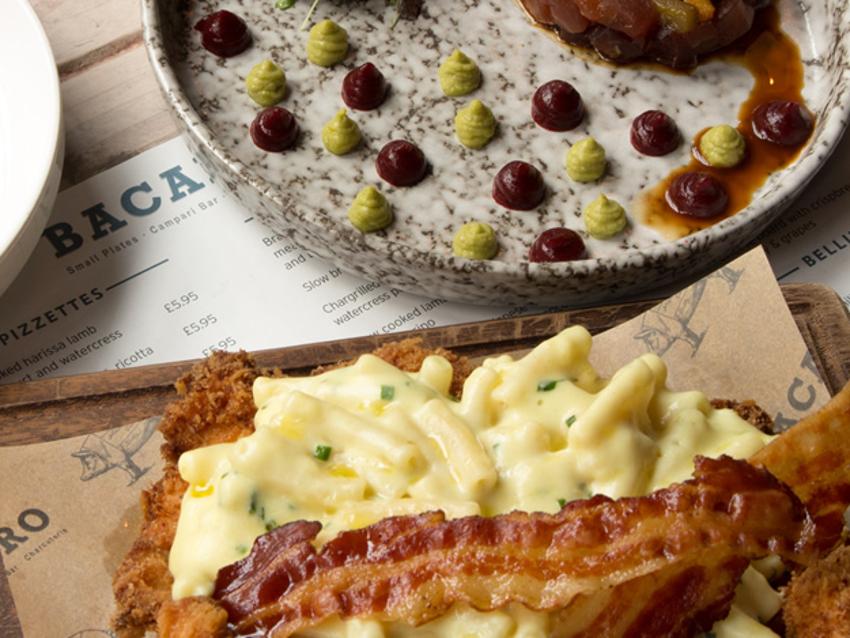 Photo from salthousebacaro.co.uk
Bacaro
Bacaro on Castle Street is a consistent favourite, bringing the unusual concept of Venetian Tapas. Small plates with a lot of flavour, the menu is always changing so it's hard to recommend specifics. If the mozzarella is available, that's particularly excellent, as are the pizettes, and the vegetarian plates are delicious, regardless of your thoughts on meat.
They've recently installed a huge awning for their outdoor tables and heaters so it's a great place for eating outdoors.
---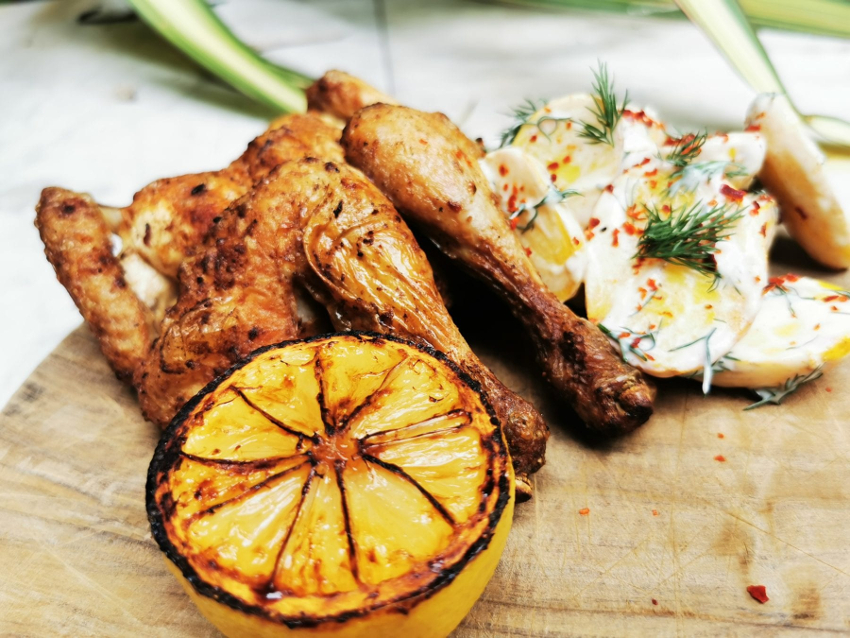 Pen Factory
Pen Factory on Hope Street is a bit of a hidden gem for food. Right next to the Everyman Theatre, it's a casual bar / restaurant place in the bottom floor of what used to be a factory (yes, it made pens). Again, it's all about small plates, and the menu is manageably short, and totally delicious. The dishes are always changing so it's hard to recommend anything, but you won't be disappointed.
There's a pretty outside courtyard with plants everywhere and a couple of tables have heaters and a rain-proof awning.
---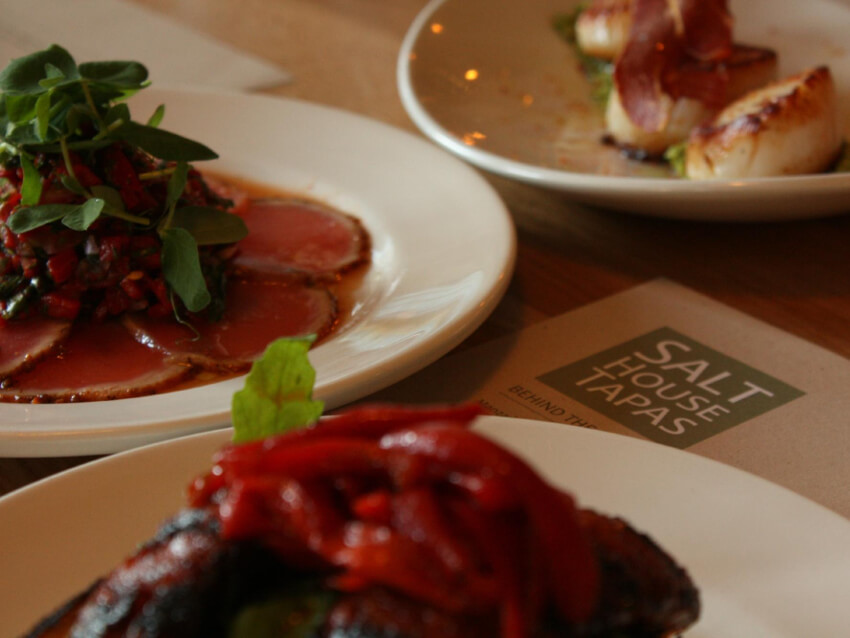 Photo from Salt House Tapas (via Tripadvisor)
Salt House Tapas
Run by the same folks as Bacaro, Salt House Tapas on Hanover Street is more traditional spin on tapas than its sister restaurant, and just as excellent. Tapas is the home of the small plate concept, it's a great way of trying a little bit of everything and sharing with others if you fancy that. Particular recommendations are the tortilla and the chorizo in honey, but again, these people know food so you can't go far wrong whatever you order.
Excellent for people with food allergies: there are special allergy menus and plates come with little flags confirming they've been prepared without that ingredient.
There's well-covered outside seating with heaters, but it's often not open when the weather's bad, so best to check.
---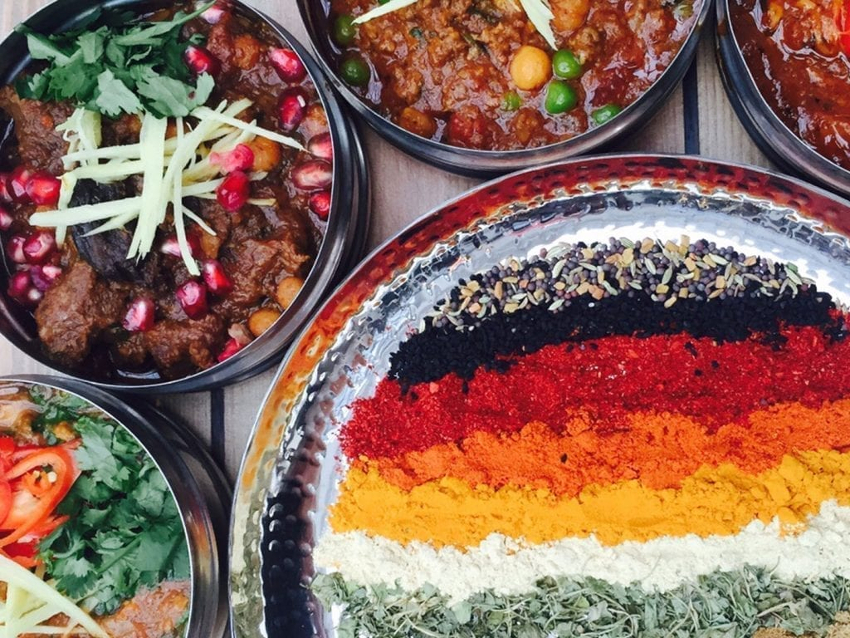 Photo from mowglistreetfood.com
Mowgli
You might've seen Mowgli elsewhere since they seem to be taking over the world, but it all started here with their tiny restaurant on Bold Street. The concept is Indian street food - very different from the curry plus rice formula of traditional British-Indian. You can expect Indian small plates with powerful flavours. My go-to option is the tiffin, a lucky dip of three curries with rice. A tiffin is the name of the three-layered metal container is comes in, famously used in Indian cities to deliver home-made lunch to office workers. The chat bombs are exciting too.
Good for veggies and allergies. If you can't get in at the Bold Street restaurant, there's a much bigger one near Castle Street too.
Mowgli - Google map (Bold street)
Explore the food scene with Treasure Hunt Liverpool
Fancy a fun day out exploring Liverpool, with a few delicious stops along the way? Find out more and book online at Treasure Hunt Liverpool.
---
Help us improve this page
Is there anything you'd find helpful on this page? Spotted a mistake? Let us know!
Thank you for letting us know!